Good things come in threes: bookshops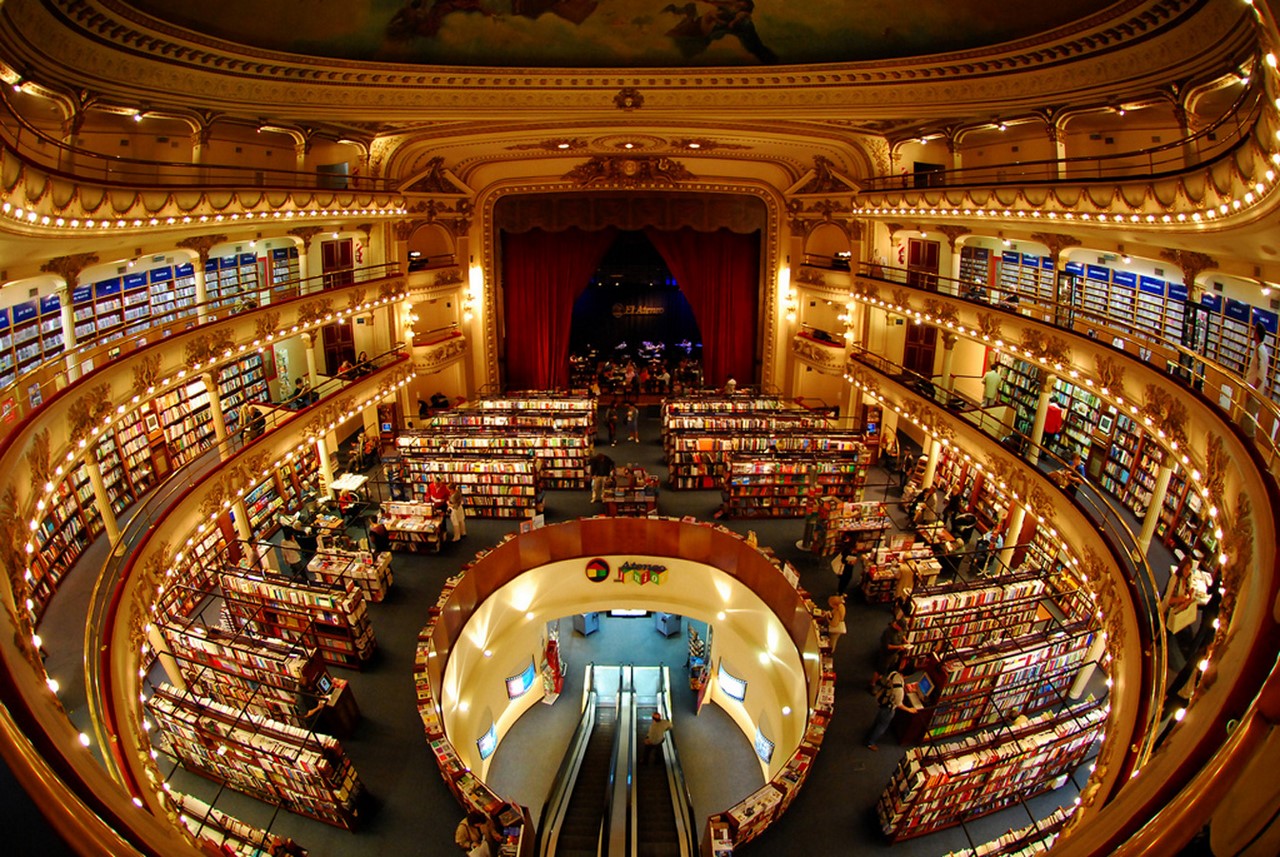 Good things come in threes: Bookshops
Ride public transport in Buenos Aires and you'll see quite a surprising number of people reading bound books the old school way, with nary an e-reader in sight. It's because of Buenos Aires' undiminished love affair with books that the city boosts well over 700 bookshops, or about 25 for every 100,000 residents. Here are three of our favourites, plus a shout-out for an English language bookshop in San Telmo.
El Ateneo Grand Splendid
Google the world's greatest, most beautiful or most famous bookshop, and El Ateneo will always snap up a top spot on lists. And the fact is, this bookshop is breathtaking. Housed in the ornate Teatro Grand Splendid, a former theatre that's steeped in nostalgia, the store's four levels of books under glorious ceiling frescoes are, well, splendid. Stroll along the mezzanines for book browsing and a fantastic view, or sit in one of the theatre boxes or the crimson-curtain framed stage café and peruse a tome.
Av. Santa Fe 1860, Recoleta; open daily.
Falena
Located on a quiet corner in Chacarita neighbourhood, Falena bookshop could easily skip under the radar except for its small distressed-brick building that looks from an earlier time. In fact, other than a small sign, there's no way to know it's even a bookshop. And even though it's not a box, Falena is something of a Tardis: it's a whole bigger on the inside. With distressed brick continuing into the interior, Falena opens to an open, airy patio that ranks it, for us, as one of the prettiest in the city. It's not just about aesthetics; there's also a great selection of classic and contemporary literature as well as non-fiction plus art and design books. Come for the literature, stay for the coffee or wine list.
Charlone 201, Chacarita; open noon to 8pm daily except Sundays.
Eterna Cadencia
Start with some old bookshop shelving and clutter, toss in both funky and modern design elements, eclectic lighting, a café/wine bar and a sunny terrace, and you've got Eterna Cadencia. One of the best bookshops in Palermo Hollywood, and just three blocks from Home, Eterno Cadencia is also a meeting place for booklovers, a driving force for introducing new writers and hosts readings by established Argentine authors.
Honduras 5574, Palermo Hollywood; open daily except Sundays.
Bonus track: Walrus Books
Small but filled to the tusks with new and used books, Walrus serves the English-reading community well. Most of the used mass market titles go for about 100 pesos and trade paperbacks from 200 pesos. Estados Unidos 617, San Telmo; open daily noon to 8pm except Mondays.